Our Senior section strikes a perfect balance between a rigorous curriculum and a vast extracurricular program. The aim is to prepare students for their higher studies and to help secure admission in top tier universities. Strong academics are paramount for scholarship programmes both nationally and
internationally.
We follow both the Oxford and Sindh Board Syllabus for Grades 6, 7 and 8. However, classes 9 and 10 follow the Sindh board syllabus only.
This is the final stage of a student's school life. As they enter adulthood it is important that they be groomed and prepped to maximise their academic potential and improve on their social etiquettes.
Our priority is to build self confidence in our students and provide proper knowledge to them to excel and progress well in life. We seek to provide value based learning through principles of respect, compassion and accountability. As we are an English medium school we encourage students to
communicate in English.
Moreover, we encourage our students to conduct research relative to current affairs and promote group activities within the school. We also offer professional development advice to our senior students.
Our senior section faculty is highly experienced in their respective fields and mentor students to outshine in their finals. Where necessary we also conduct reinforcement classes on selected days.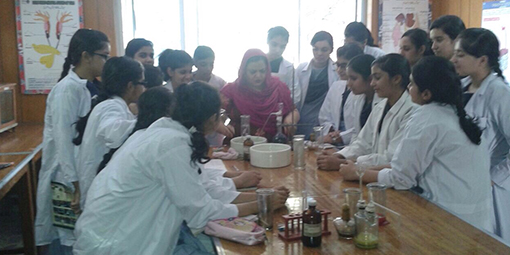 Sets clear learning objectives in English, Mathematics, Science, History, Geography, Pakistan Studies, Urdu, Computers, Islamiat and Sindhi for each level of senior section.
Focuses on developing knowledge and skills in core subjects to form an excellent foundation for
future study.
Develops children socially (Etiquettes, understanding society and general behaviour) Develops children emotionally (Behavioural management, celebrating happy moments and decision making)
Academic Assistance Program
An academic assistance program is also available in our senior section. If a teacher thinks that any child needs extra help or remedial class in any subject, after informing and getting permission from parents via circular, he/she can stay after school for an hour. We do not encourage our students to take any tuitions and this programme is aimed to help curb the pervasive tuition culture in the city.
Science laboratory is equipped with modern scientific equipment to facilitate practical work necessary for senior examinations.
Our computer lab is updated and air-conditioned. The department has qualified committed teachers to teach different classes at different levels.
The school is equipped with a dedicated and restricted broadband Internet connection for enterprising students get a chance to be familiar with the internet. They do comprehensive research for their projects and presentations.
Multi-media facility is provided for a better understanding of General Science and Social Studies curriculum.
Library is run by qualified and experienced librarian. Our well stocked library supports the curriculum programmes in our school while encouraging students to carry out their own research work.