This is a very important stage in a child's schooling where advanced concepts relative to science, mathematics and technology are introduced. In order for our students to better relate their work to practical implementation we continue to apply STEAM Education approach of learning in our Junior Section.
Special stress is laid on activity based learning in all areas. Students participate in various areas mentioned below.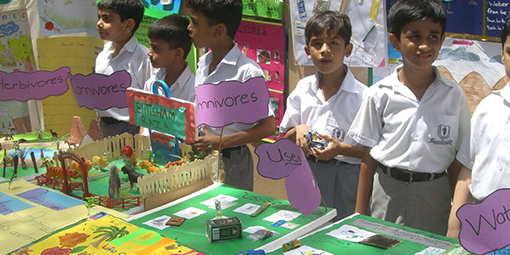 Reading is an exercise for the mind; it opens doors for additional knowledge and helps children develop better cognitive skills. As part of our curriculum, we have identified 'reading' as a key area of development and it has been included in the school's student development plan. We celebrate students' reading successes in school, by giving them certificates for star readers every month.
Laying importance on just reading is not sufficient enough, we therefore lay special emphasis towards reading comprehension. It is the ability to read, understand, process and recall what was just read.

Possessing good reading comprehension skills is crucial. It increases the satisfaction and impact of reading which helps not just academically, but going forward in ones profession life. We also organize Annual English Linguistic Contests to promote and assess how our students are fairing in English language development.
By developing strong mental math skills from a young age, children are able to improve other skillsets and easily work out answers to mathematical scenarios in everyday life. We focus on this area of math teaching and select two students every month from each class as a Math Genius. The selected students appear in The Math Genius Semi Final and Final Rounds. The winners are awarded with the certificates of The Math Genius of the Year.
We now live in a Conceptual Age. This Age requires individuals to be able to think critically, solve problems, and adapt to new environments by utilizing their knowledge and creativity. Giving our students clear concepts in all the subjects is our aim as a better grasp of concepts results in increased understanding and outstanding results. Different techniques and methodologies are used for different topics. We ensure that our students understand the concepts step by step, through practical demonstration, involving students in experiments and activities, by giving them plenty of practice through worksheets and creative work.
As students' progress, their maturity levels alter where it becomes important to maintain a linear approach towards their studies. As a school we aim to include methodologies which help them manage their studies and personal life. We encourage honesty, discipline, ethics and courteous behaviour amongst our students.
We regularly plan and organize functions to commemorate our national days. Additionally, annual events are held such as Elocution, Social Studies and General Science Quiz Competitions, and we ensure maximum participation by all students. This helps in confidence building and benefits communication skills.
Field and educational trips are organized so that students can enjoy outside of school with their
teachers and fellow students.